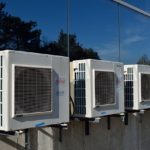 Buying the most efficient air conditioner lowers energy bills, reduces your carbon footprint, completes climate control, reduces noise, and does not waste cooling. Have an old air conditioner? It is time to replace it. This is because old and outdated air conditioners are expensive to maintain.
Here are the top tips for choosing the most efficient air conditioners.
1. Energy STAR Certification
A good air conditioner has a blue energy star certification sign. It saves energy. By the way, it has been tested and proven to save energy. That means it saves power every month, which lowers your electric bills. It is highly encouraged you check the energy STAR certification before buying any air conditioner. Especially if you are looking for an air conditioner that can save you money.
2. Energy-Saving Settings
Energy-saving settings allow you to see the kind of power you want your air conditioner to consume, which can help you save electricity bills. If the air conditioner does not have these settings, you will never control the power it consumes. You may choose an air conditioner that will increase your electricity bills. Controlling the power your air conditioner consumes can save you lots of money.
3. Is it Wi-Fi Enabled?
It is easy to manage an air conditioner that is connected to a network. It comes with simple applications, which you will install on your mobile phone. It is easy to control the amount of energy your air conditioner consumes. Also, you can easily switch it on and off. Buying a wi-fi enabled air conditioner can save you money every month.
4. The Size of the Air Conditioner
The size of the air conditioner matters. Do not buy a small-sized conditioner to cool a big home. It will consume too much power when cooling your rooms. Choose the size of an air conditioner that can comfortably cool your room without consuming too much power or leaving your room too damp and clammy.
5. The Warranty
Before buying an air conditioner, read and understand the warranty that comes with the air conditioner. Every air conditioner comes with a warranty, but these warranties are not the same. Each brand has a warranty that covers different things such as some parts in the unit and labor if your air conditioner malfunctions.
6. The Brand
Some brands make the most efficient air conditioners. Most people love these brands. They are very popular. And they have a good reputation. You can buy an air conditioner from these brands. You will like their air conditioners. Additionally, the best brands usually have good customer service.
7. Your Budget
You are looking for the most efficient air conditioners. That means they are very expensive. The cheapest air conditioners not only cost a lot of money to maintain. They are also not effective. That is why you must be willing to spend money on a good air conditioner. You can spend more money if you want an efficient air conditioner.
These are the best tips for choosing the most efficient air conditioners.